Requirements don't just begin with a Business Analyst asking people what they want. Requirements are with the project from the moment it kicks off. They are embedded into project documents like a Project Proposal, the Project Scope, the Business Case and the Project management Plan. The Business Analysts Requirements management process usually begins after these documents have been completed.
This document describes the requirements lifecycle from project concept to tested and ready to deploy.
At each stage there are inputs, owners, locations and approvers. The details of these may vary from organisation to organisation. For example it may be the/a business analyst or a test manager who manages user acceptance testing. UAT is still a typically important step in requirements management.
An expanded description of the requirements life cycle could be added here. In the meantime here is a diagram explaining my concept.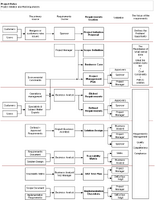 Craig Brown 01:37, 20 February 2007 (UTC)
Community content is available under
CC-BY-SA
unless otherwise noted.